Staff & Shepherds
« Back to Staff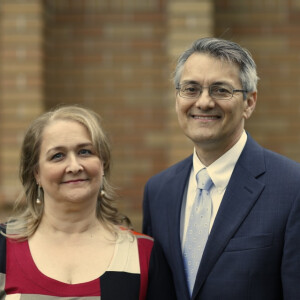 Terry Montgomery & Anita Giezentanner
Terry and his wife Anita Giezentanner have five children, five grandchildren, and have been at Memorial for many years.
Terry led the missions committee for a number of years prior to becoming an elder, and has participated in several mission trips to Ukraine, as well as to South Africa and Haiti. Anita's family joined Memorial around 1960 and she grew up in this congregation as a member of the youth group. Terry and Anita married here in 1978. Their travels and educational pursuits led them away from the Memorial area for a while, returning in 2004. Anita has participated in Bible study groups, taught children's classes and has been an active member in a variety of ways. Terry was brought to Christ through prayer and study with Anita.
Terry is a senior real estate investment analyst with Northmarq Capital and Anita is a retired anesthesiologist.